FETAL DIAGNOSIS & TREATMENT COMMITTEE
APSA Committees carry out a number of different critical functions for the association.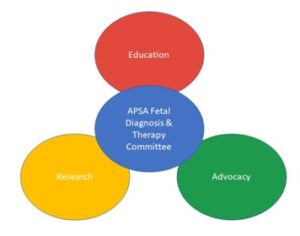 The mission of the Fetal Diagnosis and Therapy (FD&T) Committee is to establish evidence-based best practice guidelines in the area of fetal and perinatal medicine and educate the pediatric surgical community in the area of fetal medicine. To achieve this goal, the FD&T Committee will build collaborations with other organizations to conduct high-quality clinical research in the field of fetal medicine. The FD&T Committee will disseminate knowledge to the pediatric surgical community including pediatric surgeons, other healthcare practitioners, patients and their families. The FD&T Committee will advocate for fetal patients, their families, and fetal providers within the pediatric surgical community.
Visit the PedSurg Resource section of APSA's PedSurgLibrary for additional resources, including the prenatal counseling series, parent resources, reference handbooks, clinical trials and much more.